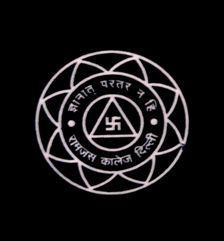 Ramjas College is a college of the University of Delhi located in North Campus of the university in New Delhi, India. It is one of the first three colleges established under University of Delhi. Ramjas is widely regarded as one of the best and finest co-educational colleges of the country. The college admits both undergraduates and post-graduates, and awards degrees under the purview of the University of Delhi. Famous for its rich history and many traditions, Ramjas is widely renowned as one of the most famous higher educational institutions in India offering degrees in the liberal arts, the sciences, and commerce.
It is one of the founding colleges of University of Delhi. The college admits students and select teachers from all communities irrespective of gender, caste, religion and physical challenges. The institution believes in holistic education that goes beyond achieving academic excellence, and vocational training.
In January 2004, the College organised the first ever South Asian Economics Students' Meet which has been a closely watched and a very prestigious event till date.
Website link: https://www.ramjascollege.edu/