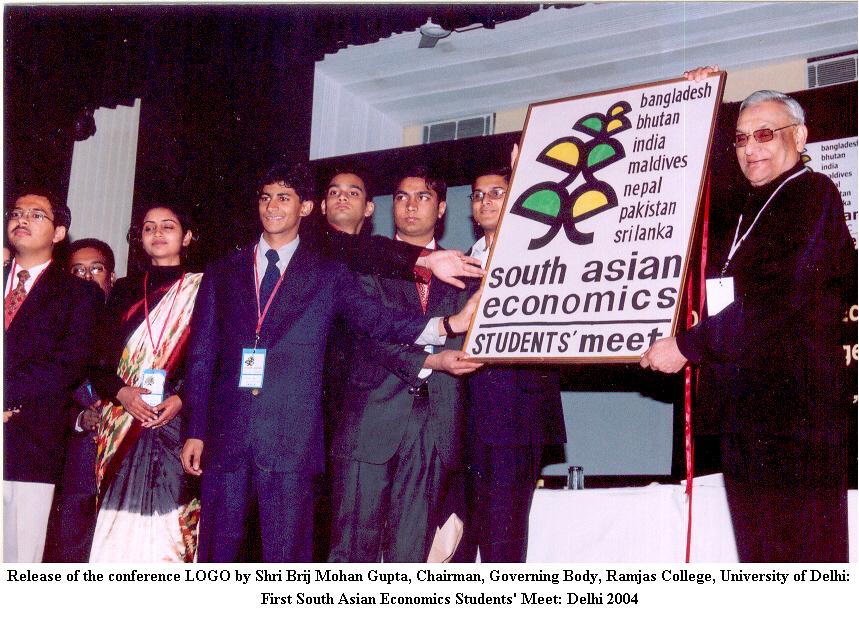 The Meet provides an opportunity for undergraduate students to write academic papers on topical issues in the region from the perspective of their home country and present the papers at the conference, share their experiences, and to learn from each other, while enhancing their knowledge on development and cooperation in the South Asian countries.  In addition, various competitive events like "Budding Economist of South Asia", Inter-country Economics Quiz, Panel discussions are also organized in which students represent their country. The knowledge of regional economic issues, regional perspectives on similar problems and possible solutions are only some of the benefits that participants derive from the Meet. The Meet generates massive positive externalities in terms of understanding, comradeship and healthy competition it stimulates amongst the participants.
SAESM has through the annual meet provided young scholars at an early age to deliberate on economic issues that are important to their own economies and also in South Asian region. The deliberations on topics such as business environment, human capital formation, infrastructure, role of state, corporate governance, regional trade including SAFTA, microfinance, religious values and development, market relevance of Economics, corruption and economic reforms stand testimony to the our endeavour to provide the young scholars of the regions a platform to focus attention on issues crucial for the development of the region.
In short, SAESM has strived to share ideas for a better understanding of the South Asian region. It is a matter of great pride for us at SAESM that students from different South Asian colleges and universities, who participated at various Meets and now are a part of our alumni, are completing their further studies in some of the best universities across the world. Further, many of them have expressed a desire to return to their own country to play an active role in the country's economic development – reflecting the achievement of SAESM objective.
The conference was conceived to be an annual event to be hosted in turn by each member country. Till date, since its inception in Delhi (2004), this annual meet has been a wonderful journey of sharing intellectual space and bonding amongst fellow South Asian Economics undergraduate students.
| | | |
| --- | --- | --- |
| Year | Venue | Theme |
| 2004 | Delhi | Economic Developments in South Asia: Which Way Ahead |
| 2005 | Lahore | Issues for South Asian Development |
| 2006 | Dhaka | Sharing Ideas for a better understanding of South Asian Development |
| 2007 | Colombo | Economic Development and Regional cooperation in South Asia |
| 2008 | New Delhi | Economic Challenges to Make South Asia free from Poverty and Deprivation |
| 2009 | Dhaka | Young Economist's for an Integrated South Asia |
| 2010 | Colombo | Economic Freedom and Poverty Reduction in South Asia |
| 2011 | Delhi | Development Alternatives in South Asia |
| 2012 | Kathmandu | Towards a Green South Asia |
| 2013 | Lahore | The Political Economy of South Asia |
| 2014 | Thimphu | South Asian Integration: Prospects and Challenges |
| 2015 | Colombo | South Asia in Asian century |
| 2016 | Kathmandu | One South Asia |
---
Eminent scholars who have contributed towards SAESM over the years
| | |
| --- | --- |
| Dr Amartya Sen | Harvard University, Nobel Laureate |
| Professor Kaushik Basu | Cornell University and Chief Economist, World Bank |
| Mr N R Narayana Murthy | Infosys, Co-founder |
| Professor Muchkund Dubey | Jawaharlal Nehru University, Delhi |
| Professor Ira Gang | Rutgers University, USA |
| Professor Badal Mukherjee | Delhi School of Economics |
| (Late) Professor Suresh Tendulkar | Delhi School of Economics |
| Professor Charan Wadhwa | Centre for Policy Research, Delhi |
| Dr Subhasish Gangopadhyay | India Foundation, Delhi |
| Dr Surjit Bhalla | Oxus Investments, Delhi |
| Dr JV Meenakshi | Delhi School of Economics |
| Dr Sunil Kanwar | Delhi School of Economics |
| Dr Ramesh Chand | Institute of Economic Growth, Delhi |
| Dr Ashwini Deshpande | Delhi School of Economics |
| Dr Chandan Mitra | Chief Editor, Pioneer |