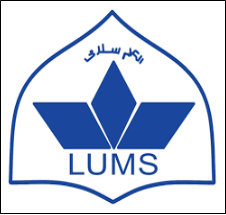 The Lahore University of Management Sciences (or LUMS), is an independent research university located in Lahore, Punjab, Pakistan.
It was founded in 1984 by the patronage of the business–industrial community. It established a business school in 1986 and the undergraduate school was initiated in 1994, and in 2008 launched an engineering school. The university is sponsored by the National Management Foundation which is sponsored by Lahore's business community. The university launched a National Outreach Programme in 2001 to provide financial aid to students and in 2015 in partnership with Afghan government launched a scholarship programme for Afghan students.
As of 2016, the university has a student body of about 3,500 graduate and undergraduate students, a faculty of 200. Its campus spreads over 100 acres where more than half its student population and more than half its faculty live. Its business school is one of two in Pakistan to be certified by the South Asian Quality Assurance System and is ranked as one of the top business school's in the country. The university is also a member of Association of Commonwealth Universities.
Website link: https://lums.edu.pk/